Quality – Elegance – Confidence
Quality is our priority, Elegance is our style, Confidence is our result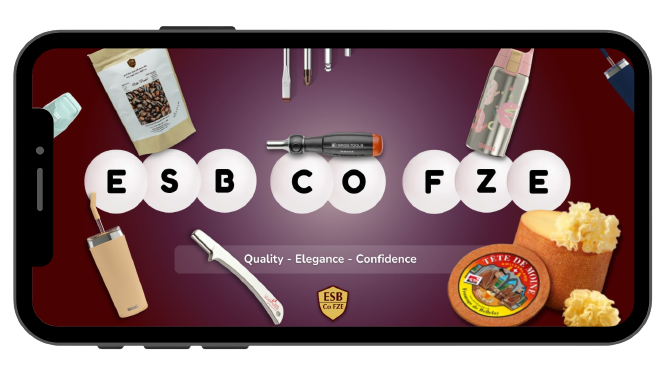 Our Departments
Coffee
At the heart of ESB Co FZE's offerings lies the passion for perfection found in our High-Grade Special Arabica Coffee department. Crafted with meticulous attention to detail, our coffee is the result of a commitment to sourcing the finest Arabica beans
Drinkware
Quench your thirst for quality with ESB Co FZE's Drinkware department. Our selection goes beyond mere vessels; each piece is a statement of style and substance. Whether it's a morning coffee or an evening toast, our drinkware enhances every sip.
Dairy products
From farm to table, the Dairy Products department at ESB Co FZE ensures the highest standards of freshness and quality. With a commitment to delivering dairy delights that nourish and satisfy, our range of products embodies the heritage of trust that has been cultivated over years of dedicated service.
Software
In the digital age, security is paramount, and ESB Co FZE's Security Software department stands at the forefront of safeguarding your digital world. With a focus on cutting-edge technology and user-friendly solutions, we provide applications to protect your data and privacy.
Hardware
Precision is paramount in the Hardware Tools department at ESB Co FZE. Our carefully curated range of tools reflects a dedication to delivering products that professionals and enthusiasts can rely on.
Kitchenware
Elevate your culinary journey with ESB Co FZE's Kitchenware department. Our collection doesn't just add elegance to your kitchen; it's designed to enhance your cooking experience.
About us:
Established in 2016 in Sharjah, UAE, ESB Co FZE embodies a youthful spirit backed by a wealth of over 25 years of pre-2016 business expertise across various domains. Anchored by a foundation of unwavering values, the company operates under the guidance of its owner, who diligently upholds inherited principles passed down by visionary parents. A strong advocate for diversification, the owner's ethos has led to the creation of distinct departments, each housing a unique range of premium-quality products, a testament to the commitment to excellence that defines ESB Co FZE.
These divisions/departments that each contain premium quality products of their kind are as follows:
High-Grade Special Arabica Coffee.
Hardware Tools.
Kitchenware.
Security Software and Applications.
Drinkware.
Dairy Products.
Explore Our Values!
Delve into the essence of ESB Co FZE through our core principles and guiding philosophy.
Quality is our Priority
At ESB Co FZE, quality is the heart of everything we do. From meticulous craftsmanship to rigorous standards, we ensure each product embodies our pursuit of perfection.
Elegance is our Style
Our design ethos blends beauty and purpose seamlessly. Beyond appearances, our products enhance user experience through thoughtful design, creating a harmonious blend of style and substance.
Confidence is our Result
Confidence grows from proven competence. Our history of delivering on promises fosters trust. We're confident in our products' durability, solutions' efficacy, and the enduring trust of our clients.
what can we offer?
Diverse Excellence
At ESB Co FZE, our diverse portfolio spans a range of departments, each representing excellence in their respective domains. From premium Arabica coffee to cutting-edge security software, we offer a spectrum of products that cater to a variety of needs.
Uncompromising Quality
Quality isn't just a feature—it's a fundamental principle woven into every product we offer. Our commitment to delivering only the finest, meticulously crafted goods ensures that each item bearing the ESB Co FZE name is a testament to excellence.
Aesthetic Innovation
Beyond functionality, we pride ourselves on the fusion of aesthetics and innovation. Our design ethos marries elegance with utility, creating products that don't just perform well, but also add a touch of sophistication to everyday experiences.
Trusted Partnerships
With a legacy rooted in trust and integrity, we build enduring partnerships with our clients. Through transparent interactions, reliable products, and exceptional service, we foster relationships that stand the test of time, making ESB Co FZE a name you can count on.